How to add a coffee machine to my account ?
Written By Floriane Mailleux, last update on
---
Are you asking yourself questions about your professional coffee machine? Javry makes it easier for you!
You finally (or very soon!) own a Javry professional coffee machine. However, you have some questions: how do I use it? How do I clean it? What cleaning products do I need? Add your coffee machine to your Javry account so to easily access the related information!
Table of content
Good to know
In order to access all the information related to your coffee machine, you first need to add it to your Javry client account.

How to add a coffee machine to my Javry account?
You can simply follow the following steps:
Log into your Javry account.


Go to the "Coffee machines" section under your company's name, in the left column.


Next, click the orange tab "Add a machine", located in the right corner above on your screen.



Type the model or brand of your coffee machine in the search tool. The complete list is to find

on our website

. For example, if you type JURA in the search tool, all JURA machines that are to rent or sell will appear.

Once you have found your coffee machine, click on "Add".


A message appears letting you know that your machine has been correctly added to your account. This is it: every time you will connect to your account and click on the "coffee machine" section, you will find a link directing you to your favorite coffee machine.


The machine doesn't appear on my account?
It is possible that the machine is not yet registered in our database. The newest models are not yet available. If this is the case, please fill in the form that appears underneath your searches, we will add your machine to the database as quickly as possible.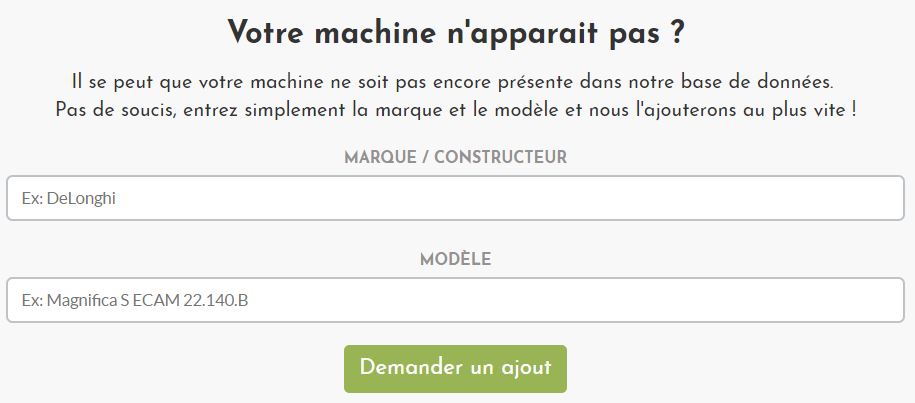 How to access useful information related to my machine?
Once your coffee machine has been added to your client account, you can read the article showing you how to access the different related information.
This article doesn't answer your question?

If this article doesn't answer your question, contact us and we will gladly get back to you!