How to replace the water filter of a Jura E6
Written By Maxence Lacroix, last update on
---
Your machine needs a regular maintenance and likes to remind you of it. When the filter symbol turns red, it is time to replace it.
Good to know
It is recommended to use the CLARIS Smart filter cartridges that are available on our website (and not the Claris Pro Smart!).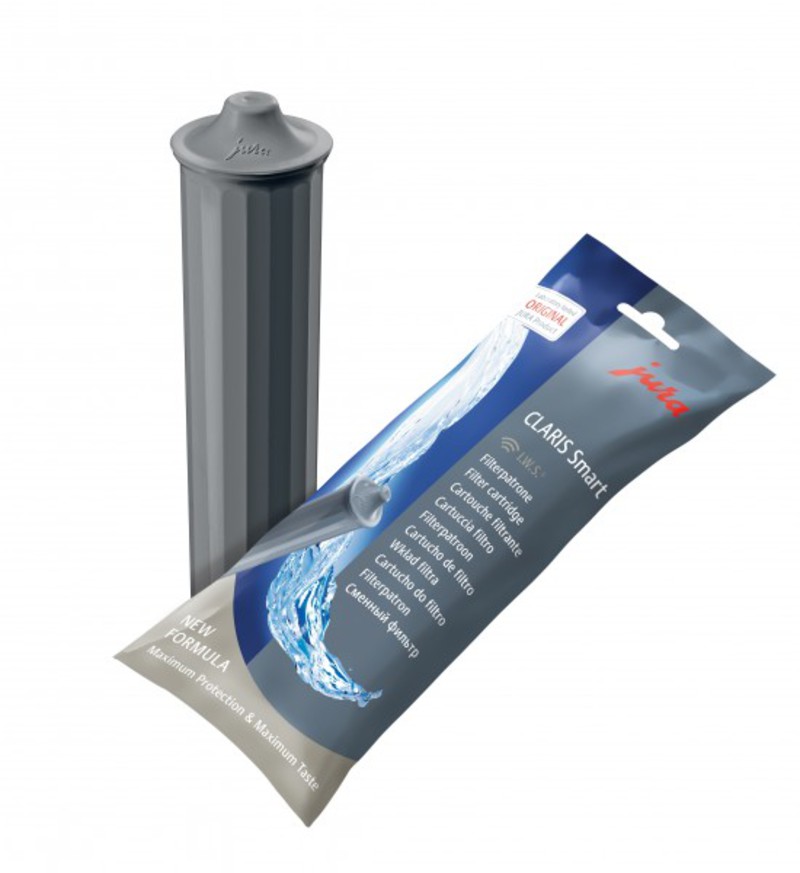 Different toolkits
We provide you with different toolkits to help you to replace the water filter of your coffee machine:
The user guide in PDF: go to page 34.
The video
Here is a video explaining you how to change the water filter of a Jura E6:
The written guide
As soon as your machine requires you to replace the water filter (with the filter icon turning red):
Take out the water tank and empty it,
Turn the filter cartridge

anti-clockwise and take it out of the water tank with the help of the extension,

Fix the extension

to a new CLARIS Smart filter cartridge

,

Press the new filter cartridge

into the water tank,

Turn the cartridge clockwise until you hear the explected "click"-sound,

Fill the water tank

with fresh water and

put it back where it belongs

. The machine automatically detects when a new cartridge has been placed and the message "Saved" appears on the screen.

Then, the message "Turn to open" requests you to put a container under the warm water nozzle,
Turn the rotary switch unto the "coffee mug" symbol. The message "Rinsing activated" appears. Water flows into the container. The water can be slightly caroled, but it is no harm for your health or the coffee quality and taste.
Ensuite, le message "tourner ouvrir" vous invite

à placer un récipient

sous la buse d'eau chaude,
The rinsing will stop automatically.
The message "Turn to close" appears on the screen of the machine. Turn the rotary switch onto "OFF".
The water filter symbol has now turned blue.
Do you still have questions?
Are you looking for something in particular and haven't found the answer here? We are official Jura retailers and have an entire team of experts at your disposal. Contact us and we will quickly get back to you!